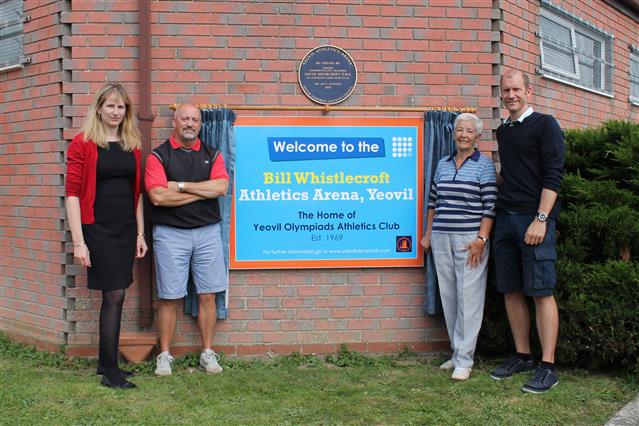 The Bill Whistlecroft Athletics Arena, Yeovil
This is the new name of the athletics arena at Yeovil after an official renaming ceremony took place during the Yeovil Games on 14th September 2014 attended by Bills wife Ann, their son Mark and a large number of Bills friends, colleagues and athletes as well as representatives from South Somerset District Council.
Yeovil Olympiads are proud to be based at this great facility, renamed in Bills honour.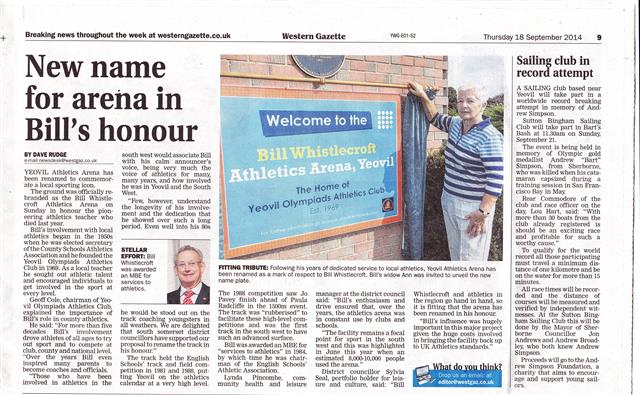 9/9/14 - The Bill Whistlecroft Athletics Arena
At the Yeovil Games on Sunday 14th September 2014 there will be a break in the programme to formally re-name the track in honour of Bill.
Geoff Cole, Yeovil Olympiads Chairman said "Up to the point of his sad passing in May last year, Bill had put his life and soul into the athletics scene, being fundamentally part of the sporting success of many in the region.
The Yeovil Olympiads Athletics Club and the Athletics Arena are Bill's legacy, and we are delighted that SSDC and Local Councillors have supported our proposal to rename the track the 'Bill Whistlecroft Athletics Arena, Yeovil' in his honour. "
14/6/13 - BILL WHISTLECROFT MBE - today we said goodbye to a great man. A man with charisma and charm, with humour and humility. A family man, a man who encouraged and nurtured the talent and ability in those around him. A man with his own outstanding abilities - tutor, organiser, coach, announcer and so many more. A man of the meeting room, the lecture theatre, the sports hall, the microphone, of Yeovil Olympiads and moreover, a man of athletics. Goodbye Bill and thank you.
30/5/13 - It is with great sadness that we have to announce the death of Bill Whistlecroft. We extend our heartfelt sympathy and thoughts to Ann and to Bill's family and friends. Bill was the heart and soul of Yeovil Olympiads and his like will not be seen again - he will be sorely missed. Bill's funeral will be at St John's Church in Yeovil at 11.30 on Friday 14th June. All are encouraged to wear YOAC colours or those of Bill's beloved Wigan Warriors - cherry and white. There have been many glowing tributes to Bill and the way he touched so many lives can perhaps be best expressed by a sample of the many tributes on Facebook in the attached document. FACEBOOK TRIBUTES TO BILL